How Much Does Plus-Size Supermodel Ashley Graham Weight?
The American model and television presenter Ashley Graham is one of the few muses in the fashion industry with the status of a plus-size supermodel.
She is a fan of the HealthAtEverySize movement, a mother of three, and proudly participates in Nude style photo shoots.
Ashley Graham's weight is something the model is proud of and inspires many women to be confident about themselves and their appearance.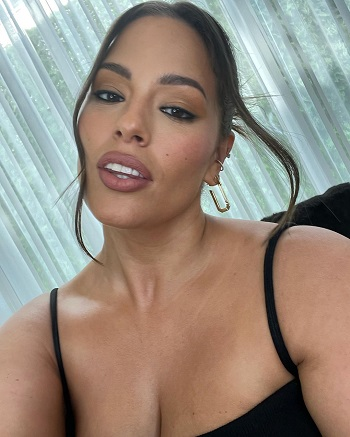 Ashley Graham's details: age, place of birth, education, occupation, marital status
Full name: Ashley Ann Graham
Age: 34
Birthday Date: October 30, 1987
Place of birth: Lincoln, Nebraska, USA
Nationality: American
Sun Sign: Scorpio
Eye Color: Dark Brown
Hair Color: BrownParents and siblings
Mother: Linda Graham
Sister: Abigail Graham
Education
Scott Middle School (1999 – 2002), Lincoln Southwest High School (2002 – 2005)Occupation
Plus-size model/ social InfluencerMarital status
Married to videographer Justin Ervin
Children: Isaac Menelik Giovanni Ervin (2020), Malachi and Roman ErvinGraham's)
Ashley Graham's body measurements
Ashley Graham's height: 177 cm
Ashley Graham's weight: 91 kg and 201 lbs
Body dimensions: 42-30-46 inches / 107-76-117 cm
Bra size: 38 D
The shoe size is 10(US) / 7.5 (UK)
How did Ashley Graham's career get started?
Ashley Graham was born on October 30, 1987, in the small town of Lincoln, Nebraska, USA.
She is one of the few who began her career while still studying at school. Ashley Graham was identified by an agency I and I, which marked the beginning of her career. At the age of 14, Ashley Graham signed her first contract with the Wilhelmina Model Agency, founded in 1967 by Wilhelmina Cooper.
Two years later, in 2003, Graham signed a contract with Ford Models and gradually began her ascent as the future star of the fashion world.
Ashley just managed to become one of the pioneers when plus-size models were just starting to gain popularity.
In 2007, the creative editor of the American Vogue Sally Singer suggested Ashley appear in the editorial article.
A serious event in Graham's career was the cover of Glamor magazine in 2009. At that time, the magazine publishes an article with a photo of seven plus-size models, such as Ashley Graham, Lizzie Miller, Kate Dillon, Crystal Renn, Jenny Rankin, Anansa Sims, and Emi Limons.
However, the popularity of Ashley as a successful model lies not only in her bright appearance but also in her daring statements and self-confidence!
Thanks to this, in 2016 she became the first plus-size model on the cover of the Sports Illustrated Swimsuit Issue and caused many ambiguous comments in the press and on social networks.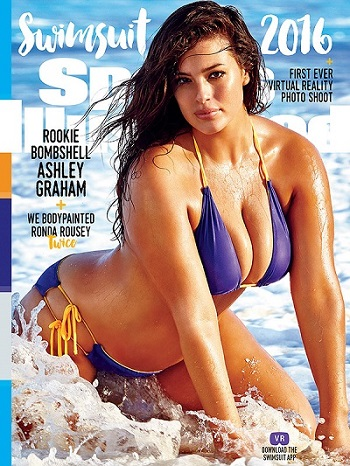 Ashley Graham represents her collection of linen for Addition Elle
The famous m launched her line of underwear together with the Addition Elle online store, inspired by the movie Fifty Shades of Grey, 2015. Graham collaborated with an online store in 2013 and 2014, but as a model.
In 2016, on the initiative of Ashley Graham and the Addition Elle, the first show of plus-size models on New York Fashion Week was held and this made a real splash among guests of the show!
After Ashley Graham's piquant defile at the Fashion Week in New York, she got a wave of criticism on social networks. Despite this, in 2017 she published the book A New Model: What Confidence and Power Look Like, which instantly became a bestseller!
Ashley's reaction to criticism of her body measurements
During her second pregnancy, Ashley Graham's weight ballooned and the model faced criticism for her stretch marks on the skin, which she showed quite confidently on her Instagram account.
One of Ashley's followers drew attention to this, saying that she also had twins, but she did not have such stretch marks.
The follower added: "I hope that does not affect your career"
"Gosh, hope I still have a career with my stretch marks." – Ashley Graham commented.
The model did not accept changes in the body after the first pregnancy immediately, but now she inspires women all around the world to love and accept themselves as they are, despite the dress size.
However, Ashley's confident position on body positiveness is not always met with criticism! Fans also often give her admiration.
Outspoken photoshoots
Ashley Graham is the one who certainly does not hide her curved body measurements!
The famous model on the eve of the greeting of her twins starred naked in a new photo shoot. In that epic photo, there are two babies in the pose of embryos depicted on her belly. This Instagram post was approved by her followers.
On December 31, Ashley Graham while celebrating her husband's birthday published a series of joint photos with him on Instagram.
In addition to the photos, Ashley shared a short video of a nude photo shoot in the field.
The model often poses without clothes and appeals to her followers to not be shy about their bodies. On her husband's birthday, she also posted a frank selfie taken in the bathroom in Stories and a daring photo from yoga.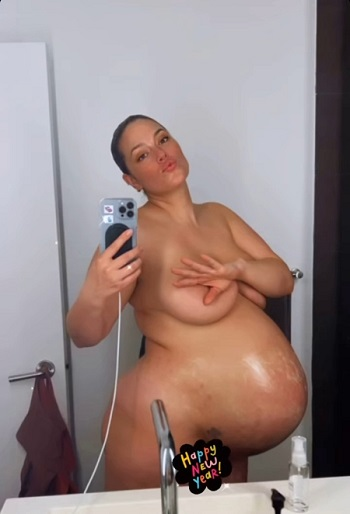 Ashley Graham weight: healthy diet and workout routine of plus size models
Many people are sure that plus-size models, which popularize body positivity and love for their own body, actually just live in pleasure without observing a diet or without exhausting themselves in the gym.
Ashley Graham is on sports intensively, and also she carefully monitors her loss of weight and proper nutrition excluding fast food!
Below you will find out about Ashley's secrets that help her to stay healthy!
Healthy dietary habits
Ashley Graham starts her day with a glass of warm water with the addition of lemon and green juice from cabbage, lemon, ginger, beets, apple, and parsley.
Ashley Graham Weight Loss
The secret ingredient of green juice is Kayen pepper powder, which accelerates metabolism. Yes! Metabolism! Since in fact, the plus-size models monitor their weight carefully.
The star eats meat dishes only for lunch, as it is digested for a long time by the body.
In one of her interviews, Ashley admitted that her dinner consists of a green salad with quinoa and brown rice, carrots, tomatoes, avocados, leafy vegetables, and pesto sauce. She loves sweet potato and vegetables, lightly fried in olive oil, with chicken and Brussels cabbage.
The model monitors the size of a food portion, and sometimes, having analyzed her needs, Ashley prefers a glass of water instead of food.
Graham's snacks consist of fruits: apples or bananas, and she also always has a chocolate bitter-sour bar with the maximum cocoa content.
Oh, by the way, she loves to cook, and her branded dish is gluten-free pasta with tomato paste.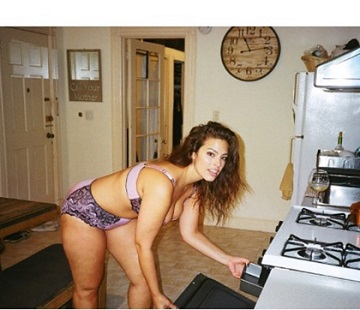 OK! Not all are so strict! But! Keep in mind that Ashley compensates for high-calorie foods with rigid training in the gym three to four times a week.
Ashley Graham's workout routine
On her Instagram account, the model often shares her video from the gym. Ashley is engaged in a very high-quality workout.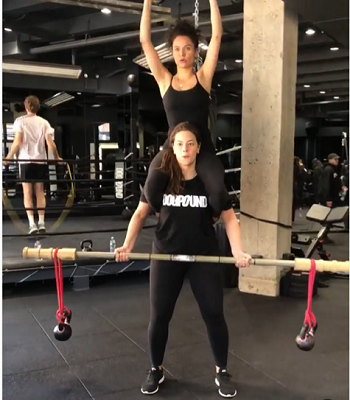 Even being a successful plus-size model, Ashley always finds time for sports. She often faced criticism since users of social networks were perplexed as to why she was training if she was not going to lose weight.
To this bewilderment, the model replied that she is trained for health and flexibility, and not at all to lose weight.
Ashley's training is a mix of heavy athletics, Pilates, and boxing. The star runs on the path, makes squats and lunges with a bar, jumps through the rope, makes exercises with an elastic band, and is also engaged in an unstable platform.
Weekly fitness mode:
Monday/ Friday: Boxfit
Tuesday: gym
Wednesday: Run
Thursday: exercises with a barbell
Boxfit is a combination of cardio training and kickboxing. The lesson begins with a warm-up, then sparring with a partner follows for a few minutes, then it strikes the boxing pear, squeezes, and jumps.
On Wednesdays, Ashley runs short distances as this is a great way to increase muscle mass, burn fat and calories and increase metabolic rate.
Ashley's tips
Do not concentrate in the class only in the gym, but go dancing or to the pool
Schedule for training without long breaks
Take your girlfriend to the gym
Pretty sportswear
Ashley Graham's personal life
In 2009, the 22 -year -old model meets her future husband Justin.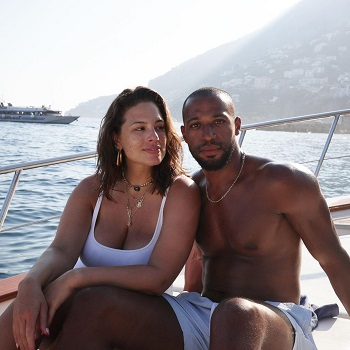 When Ashley and Justin arrived in Nebraska to get acquainted with her family, not everyone was happy with the model's choice. In an interview for the CBS television company, the star admitted: "I will never forget that feeling of just sitting there and thinking that how ill I make him to those people who raised me and taught me how to live. He was treated very terribly for the first time, I was so embarrassed at that time, but he said to me, "racism is never surprising but always disappointing."
Soon the couple celebrated their wedding in 2010 and in January 2020, Ashley and Justin welcomed their first baby boy Isaac Menelik Giovanni. In 2021 the couple announced that they were waiting for twins.
Ashley Graham's net worth
Ashley Graham is not only a plus-size model, but also an actress, author, body activist, and producer. Since her career began in the 2000s and just a few years she signed contracts with the Wilhelmina, Ford, and IMG Models that brought her popularity and wealth.
As of now, with an estimated net worth of $18 million on 2022, she is one of the most popular models who has featured on the cover of many fashion magazines such as Harper's Bazaar, Vogue, Elle and collaborating with Michael Kors, Dolce, and Gabbana, Tommy Hilfiger, etc.