How Much Does Plus-Size Supermodel Ashley Graham Weight?
The American model and television presenter Ashley Graham is one of the few muses in the fashion industry with the status of a plus-size supermodel.
She is a fan of the HealthAtEverySize movement, a mother of three, and proudly participates in Nude style photo shoots.
Ashley Graham's weight is something the model is proud of and inspires many women to be confident about themselves and their appearance.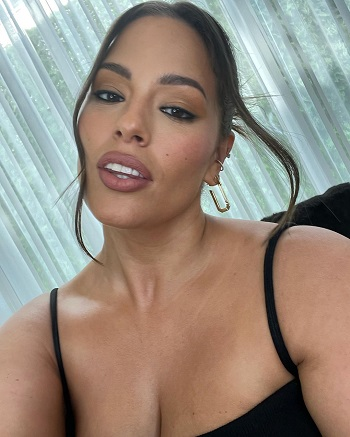 Ashley Graham's details: age, place of birth, education, occupation, marital status
Full name: Ashley Ann Graham
Age: 34
Birthday Date: October 30, 1987
Place of birth: Lincoln, Nebraska, USA
Nationality: American
Sun Sign: Scorpio
Eye Color: Dark Brown
Hair Color: BrownParents and siblings
Mother: Linda Graham
Sister: Abigail Graham
Education
Scott Middle School (1999 – 2002), Lincoln Southwest High School (2002 – 2005)Occupation
Plus-size model/ social InfluencerMarital status
Married to videographer Justin Ervin
Children: Isaac Menelik Giovanni Ervin (2020), Malachi and Roman ErvinGraham's)
Ashley Graham's body measurements
Ashley Graham's height: 177 cm
Ashley Graham's weight: 91 kg and 201 lbs
Body dimensions: 42-30-46 inches / 107-76-117 cm
Bra size: 38 D
The shoe size is 10(US) / 7.5 (UK)
How did Ashley Graham's career get started?
Ashley Graham was born on October 30, 1987, in the small town of Lincoln, Nebraska, USA.
She is one of the few who began her career while still studying at school. Ashley Graham was identified by an agency I and I, which marked the beginning of her career. At the age of 14, Ashley Graham signed her first contract with the Wilhelmina Model Agency, founded in 1967 by Wilhelmina Cooper.
Two years later, in 2003, Graham signed a contract with Ford Models and gradually began her ascent as the future star of the fashion world.
Ashley just managed to become one of the pioneers when plus-size models were just starting to gain popularity.
In 2007, the creative editor of the American Vogue Sally Singer suggested Ashley appear in the editorial article.
A serious event in Graham's career was the cover of Glamor magazine in 2009. At that time, the magazine publishes an article with a photo of seven plus-size models, such as Ashley Graham, Lizzie Miller, Kate Dillon, Crystal Renn, Jenny Rankin, Anansa Sims, and Emi Limons.
However, the popularity of Ashley as a successful model lies not only in her bright appearance but also in her daring statements and self-confidence!
Thanks to this, in 2016 she became the first plus-size model on the cover of the Sports Illustrated Swimsuit Issue and caused many ambiguous comments in the press and on social networks.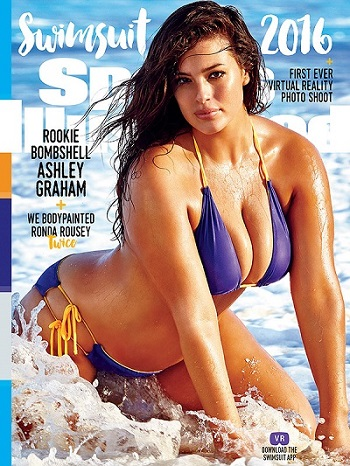 Ashley Graham represents her collection of linen for Addition Elle
The famous m launched her line of underwear together with the Addition Elle online store, inspired by the movie Fifty Shades of Grey, 2015. Graham collaborated with an online store in 2013 and 2014, but as a model.
In 2016, on the initiative of Ashley Graham and the Addition Elle, the first show of plus-size models on New York Fashion Week was held and this made a real splash among guests of the show!
After Ashley Graham's piquant defile at the Fashion Week in New York, she got a wave of criticism on social networks. Despite this, in 2017 she published the book A New Model: What Confidence and Power Look Like, which instantly became a bestseller!
Ashley's reaction to criticism of her body measurements
During her second pregnancy, Ashley Graham's weight ballooned and the model faced criticism for her stretch marks on the skin, which she showed quite confidently on her Instagram account.
One of Ashley's followers drew attention to this, saying that she also had twins, but she did not have such stretch marks.
The follower added: "I hope that does not affect your career"
"Gosh, hope I still have a career with my stretch marks." – Ashley Graham commented.
The model did not accept changes in the body after the first pregnancy immediately, but now she inspires women all around the world to love and accept themselves as they are, despite the dress size.
However, Ashley's confident position on body positiveness is not always met with criticism! Fans also often give her admiration.
Outspoken photoshoots
Ashley Graham is the one who certainly does not hide her curved body measurements!
The famous model on the eve of the greeting of her twins starred naked in a new photo shoot. In that epic photo, there are two babies in the pose of embryos depicted on her belly. This Instagram post was approved by her followers.