Jennifer Lopez: Life, Love, Career & J Lo parents
Interested to know who Jennifer Lopez is and information about J Lo parents? Are Jennifer Lopez parents native Puerto Ricans? Who is Marc Anthony, Ben Affleck, and Cris Judd in her life?
In this article, we'll take a closer look at the life of one of history's most successful celebrities, singers, and fashion and fitness icons, among other hats she wears.
The singer who endorsed Democratic presidential nominee Hilary Clinton and held a free concert to support her campaign in 2016 was born on July 24, 1969, in Castle Hill, New York City.
Jennifer Lopez parents were immigrants from Puerto Rico, with Guadalupe Rodríguez, emigrating from Puerto Rico to the USA. She and David Lopez, her husband raised their three daughters, including J Lo.
Her father David Lopez worked as a computer technician after working at Guardian Insurance Company.
On the other hand, Guadalupe Rodriguez was a homemaker for about 10 years and a Tupperware salesperson, and a kindergarten and gym teacher.
Early life
Jennifer and her two sisters, Leslie and Linda instilled in her a love for the arts. Their parents practiced Catholicism traditions as they were growing up. In fact, they were not allowed to go outside when the sun sets.
For their past time, the girls enrolled and attended singing and dancing classes instead of participating in non-productive past times. There is no doubt that J Lo became a fabulous singer and dancer as you'd see in her music videos.
The parents of Jennifer Lynn Lopez strived hard enough to improve their lives. They were able to save money and transferred them from a small apartment in the Castle Hill neighborhood in the South Central Section of the borough of the Bronx in New York City to a house.
This move was quite a big deal for the parents of Jennifer Lopez. They also sent her to a Catholic School where the now professional dancer and singer joined various school productions. She was also a member of the choir, wherein her voice coaches revealed her talent for singing and helped her develop in every way.
According to J Lo, she and her sisters didn't want to disappoint their parents and waste their effort. In an interview with HuffPost, she said, "I always felt that I couldn't let them down. And I had a natural discipline from early on."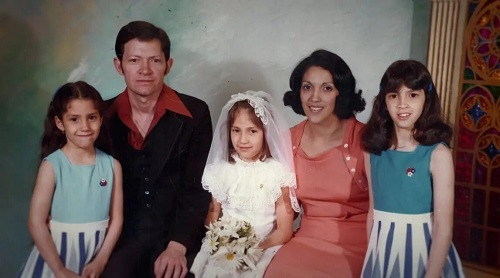 Jennifer Lopez's parents were supportive of her passion and love for performing arts; however, they still wanted her to become a lawyer.
How many years do you think Jennifer Lopez was studying in college? Not a single year! J Lo quit her studies after only one semester, leading to a conflict with her Puerto Rican parents. The sexy singer and dancer was forced to move out.
In the 90s, Jennifer Lopez's parents divorced after 33 years of marriage.
Jennifer Lopez's Father – David Lopez
He was working all his life to support their family. Aside from working at Guardian Insurance Company, he's also known to have worked as a computer technician during the early periods of computers.
Joint business with J Lo
In 2002, Mr. Lopez helped Jennifer Lopez manage "Madre's" in Pasadena, California. It was popular among the locals, so it shocked everyone when it closed in 2008.
J Lo never commented on why it closed, but one of the media's versions was that the former American Idol judge wanted to focus on motherhood.
Marc Anthony and Jennifer Lopez welcomed their twins. Lopez gave birth to Maximilian David and Emme Maribel ​​in February 2008.
After the restaurant's closure, David began with his new project, and in 2013, he supported the new Manos Accelerator startup.
This project helped members of the Latin community develop their businesses and help represent them to potential investors.
Currently, David has gone out of business, but Manos Accelerator is still a successful enterprise.
A few years ago, the media disclosed that Jennifer Lopez had a difficult relationship with her father.
In 2017, Mr. Lopez revealed in Radar Online interview how he's experiencing great financial difficulties due to his membership in the Church of Scientology and major donations.
Speaking about how much David invested, he confessed –
"Oh, believe me, more than I care to mention. I would say hundreds of thousands!"
Meanwhile, followers of L. Ron Hubbard denied that their church charged money to those who want to become a member of it.
The media also claimed that J Lo's father of Puerto Rican origin lost housing and savings for joining the church.
However, Jennifer Lopez was in no hurry to help her former computer technician father and gave no comments about his sad fate.
Where is Jennifer Lopez' Dad Now?
Currently, Mr. Lopez lives with his wife Carla Padilla in California. He happily retired and continues to enjoy not being the media's attention.
Even with the not-so-good past relationship with her dad, who was the more controversial among Jennifer Lopez's parents, she still expresses her love for him whenever she can. In fact, she posted very rare photos with him in honor of Father's Day.
Jennifer Lopez's Mother – Guadalupe Rodriguez
Guadalupe 'Lupe' Rodríguez, whose mother was Julia Rodriguez, is of Puerto Rican origin. She was born on December 12, 1945, in Ponce.
Lupe worked at a school as a kindergarten and gym teacher, but she was then a housewife after marrying David Lopez.
She is a mother of three – Leslie Ann Lopez (1967); Jennifer Lynn Lopez (1969); and Lynda Elaine Lopez (1971).
The oldest daughter Leslie is a teacher and singer and is married to Bob Scholl. She has two sons – Steven and Brendon.
The youngest daughter Lynda is an 'Emmy Award' winning journalist. She has a daughter – Lucie Lopez-Goldfried, with her ex-boyfriend Adam Goldfried.
Documentary about Jennifer Lopez
The Hustlers actress opens up about her relationship with her mother in a new documentary movie Halftime on Netflix. It's released on June 14.
Halftime features the life of Jennifer Lopez – including the difficult moments and triumphs over her long career.
Jennifer Lopez describes that her mother is a difficult person but notes that they're now in a good relationship with each other. She believes that her mother did everything she had to do to keep their poor family surviving.
She also reveals being grateful for the sacrifices that helped her succeed. According to Jennifer Lopez, her dancing talent and energy were from her mother.
If you would look at her, you could tell that she inherits her beauty and youthful appearance from her mother.
The singer recalled that they used to have an argument over college education because her mother would insist that they get the education to be independent.
However, Jennifer Lopez chose her path and left home, pursuing her dreams of becoming a professional dancer and artist, not a lawyer.
Jen also noted that Lupe is a huge gambler who once had won $2.4 million at the slot machines (Atlantic City).
[The love for gambling is what Ben Affleck and Guadalupe Rodriguez have in common.]
On December 12, 2021, Guadalupe celebrated her 76th birthday.
Jennifer Lopez's Early Career in the Film Industry
Before rising to fame, the Hollywood celeb used to join different casting events while pursuing courses in dance.
To earn money, Jennifer Lopez acted in low-budget commercials and musical clips so that she could make money and rent housing.
In 1987, Jennifer Lopez played her first role in the movie "My Little Girl," and shortly after, she was chosen to dance in clips for a music video and perform with groups like New Kids on the Block.
In 1990, Lopez got her first permanent job as a dancer in In-Living Colors Humorous TV program in which she played one of the Fly Girls. Later, she started working on a Janet Jackson dance, appearing in the music video "That's The Way Love Goes."
The first serious movie stage work for Jen was the role in My Family in 1995. Then she starred in films, such as –
Money Train, 1995
Jack, 1996
Blood and Wine, 1996
Major role
In 1997, Jennifer Lopez received her first major role in Gregory Nava's film Selena, her first big break in the film industry. The movie is about the life of Selena Quintanilla Perez, the singer who died under tragic circumstances when she was 23.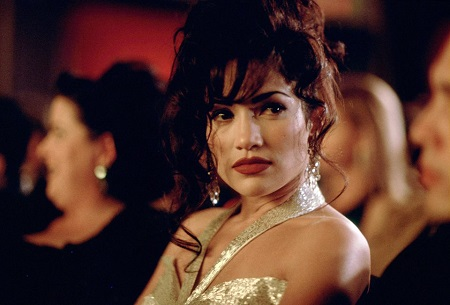 Her role in this film received positive reviews from film critics. Then, the star who formerly lived in Castle Hill in her early life slowly but surely climbed her way up to the Hollywood spotlight. She also played roles in the thriller Anaconda and Oliver Stone's detective U-Turn.
In 1998, J Lo made a breakthrough in Hollywood as the first Latin American actress to receive more than $1 million for a film role playing Karen Sisko, a prosecutor's office employee who fell in love with a cursory prisoner in Stephen Soderberg's film Out of Sight. Her co-stars were George Clooney, Ving Rhames, and Donald Cheadle.
The next popular projects in Jennifer Lopez' movie career were the 2001 romantic comedy "The Wedding Planner " which earned $94 million worldwide and the 2002 film "Maid In Manhattan" with a total box office gross of $154.8 million worldwide.
Jen continues to be a force in the showbiz industry, appearing in more than 30 films, releasing eight music albums, and being a producer of World of Dance. She's also an entrepreneur owning a line of clothing, perfumes, and cosmetics.
Jennifer Lopez's Music Career
Her colorful showbiz journey won't be complete without mentioning her musical achievements.
Her first major break in the music industry was her debut single "If You Had My Love," which took off on the first lines of American hit parades lasting several weeks there.
In 1999, she released her first album "On the 6," which pays tribute to the metro route she took to go to school. This album became a historical event in the musical world. In 2000, her hits were nominated in different prestigious musical awards.
Overflowing with inspiration, Jennifer Lopez recorded her second studio album "J.lo" in 2001 under Epic Records. Again, it was a huge success, receiving platinum status in the United States, record circulations, and different nominations from leading music awards.
A year later, her first remix album "J to Tha L-O!: The Remixes" also became No. 1 on Billboard and landed in the Guinness Book of Records.
The third album "This is me … then" 2002 included the famous hit "Jenny from the Block."
JLo's fourth album "Rebirth" was released in 2005.
By 2018, Jennifer Lopez recorded and released eight studio albums, some of them in Spanish including "Como Ama Una Mujer." Her ex-husband Mark Anthony also took part in the recording of many songs.
Personal life
J Lo's personal life is as exciting and colorful as her biography.
One of the first to be involved with her was David Cruz. The famous singer and David Cruz dated for almost ten years since high school, and then it was Puff Daddy, the controversial rapper Lopez also dated. We also found out that Jennifer was involved with former backup dancer Casper Smart.
Jennifer Lopez and Ojani Noa
Her first husband was the Cuban waiter Ojani Noa. Their marriage lasted from February 22, 1997, to January 1998.
Embed from Getty Images
In 2002, he became the manager of Madre's, Jennifer's restaurant but was later fired after only a few months.
Jennifer Lopez and Sean Combs
Jennifer Lopez and record producer Sean Combs (also known as Puff Daddy) met on the set of his clip Been Around The World.
Jen was then actively working on the debut album under his leadership. The couple appeared at the Grammy Awards ceremony in 2000 when Lopez endowed the very "naked" Versace dress.
Embed from Getty Images
The famous couple appeared together not only on the red carpet but also in a criminal chronicle. After being dragged into a scandal regarding firearms, she decided to break up with the rapper.
Jennifer Lopez and Cris Judd
Cris Judd was her backup dancer. Do you remember him at Love Don't Cost a Thing?
Embed from Getty Images
A quick and passionate affair with Cris Judd led to a wedding in September 2001.
However, things didn't go well for the two and Jennifer Lopez filed for divorce in July 2002, citing irreconcilable differences.
Bennifer
After the second divorce, Lopez began dating actor Ben Affleck.
Fast forwarding, Jennifer Lopez and Affleck announce their engagement in November 2002.
Remember the famous Bennifer? So the press nicknamed Ben Affleck and Jennifer Lopez, whose romance broke out on the set of the film Gigli, which failed but paved the way for a brighter and "restored" love.
Even if Ben Affleck had difficulty dealing with the paparazzi and numerous media publications, he's still ready to marry Jennifer, buying her a ring with a huge pink diamond. However, the wedding didn't push through as it was canceled a day before the big event on September 14, 2003.
Jennifer Lopez and Mark Anthony
Soon after splitting with Affleck, Lopez began dating her friend Mark Anthony. She met him while recording her first album.
Embed from Getty Images
In June 2004, the couple celebrated a fairly quiet wedding. In February 2008, Lopez and Anthony had twins. Lopez unexpectedly filed for divorce in the summer of 2011, citing various problematic points of view. On June 16, 2014, Jennifer was officially divorced from Mark Anthony.
Jennifer Lopez and Casper Smart
Сhoreographer and former backup dancer Casper Smart is younger by 18 years.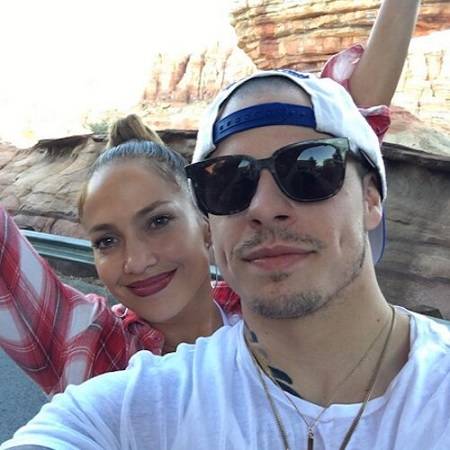 Despite the fact that journalists described the affair as frivolous, the couple's relationship lasted from 2011 to 2016.
Jennifer Lopez and Alex Rodriguez
Former baseball player Alex Rodriguez had a reputation as a heartbreaker. He had fleeting affairs with many famous ladies. But with Jennifer, A-Rod became a real romantic, who also quickly became friends with her twins.
In March 2019, Alex Rodriguez and Jennifer Lopez announced their engagement.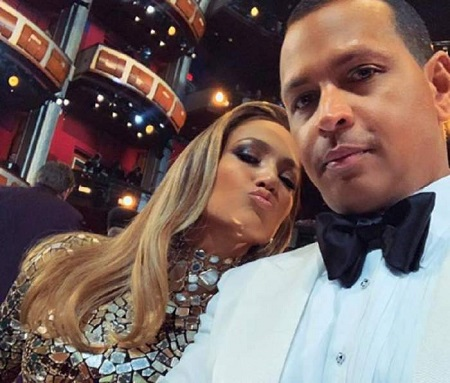 Their wedding was scheduled for the summer of 2020, but the coronavirus epidemic canceled these plans. Later, rumors that A-Rod has been cheating on the pop singer, but she did not comment on such statements.
In the spring of 2021, Lopez admitted that she and Alex broke up as friends.
Ben's return!
Embed from Getty Images
At first, the fans suspected Jennifer and Ben were in a PR love affair. However, it soon became clear that the love birds renewed their love.